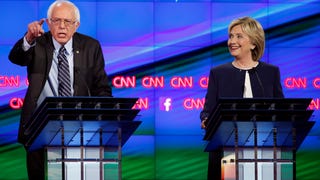 It didn't take long for the moderators at tonight's Democratic primary debate to get into the data breach that occurred earlier this week—Bernie Sanders received the first question of the night about it. "Our staff did the wrong thing," Sanders said.
By now you've almost definitely heard about Rick Perry's painfully awkward, potentially campaign-ending gaffe during Wednesday night's Republican debate. (You haven't? Here, have a few helpings of sympathetic embarrassment.)
Click to viewFlorida's gubernatorial race has been too tight to call, which is why CNN brought the two candidates on for a debate last night. During which Democrat Alex Sink was busted, on camera, for receiving an illicit text from her campaign.
Tonight is the final part of the talent portion of the Mr. President 2008 pageant, which I've been reading is like the most important one in our lifetime or something, but I think they say about that about all of them. Regardless, if you're stuck at your computer and can't get to a TV, don't worry, you don't have to…
Whereas a live online stream of the first presidential debate was a bit harder to pin down, our pick for tonight's at 9PM Eastern is Hulu. Its live stream of the final two presidential debates is actually Hulu's first ever live broadcast, which is something they might do more of following the debates. (Unfortunately,…
Even if politics and Presidential debates bore you to the point where you need to nap like a 72-year-old, credit is still due to C-SPAN for making the whole process slightly more interesting with its ambitious Debate Hub. The social media-packed, live-blogging saturated, video clip bonanza, pulls content from a…
Tonight at 9pm ET the first debate between John McCain and Barack Obama takes place. In the interest of keeping political discussion alive in America, here's a link to CBS, where we know the debate will be streamed live, at least within the US. Here's a link to NBC, which hosts much debate-related video, but doesn't…
The word fanboy gets thrown around a lot these days-so much so that Webster's decided to officially incorporate the term into the English language. Generally speaking, when referring to someone as a fanboy it is intended to be derogatory-but the bottom line is that Fanboyism is the root of all great nerdy debates. So,…