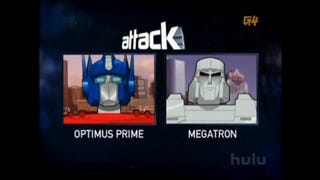 You may have thought, after eons of punching each other in movies with nonexistent plots, that Autobots and Decepticons wouldn't agree on anything. But as proven on Attack of the Show, they both agree that the Pre bests the iPhone.
We've covered how companies in China borrow inspiration from
gadget makers
, as well as how they can be , so I guess making copycat cartoons is kind of par for the course. Here's the newest trailer of a Chinese TV series called Hyperwiz, a 3D vaguely anime-styled cartoon with cars, trucks and helicopters that…
Following up on the soft Transformers plushies from the other day, these Autobot and Decepticon pillows bring the movie straight to your couch. They're shaped like the actual Autobot/Decepticon badge symbols, which means they don't actually change shapes like the actual Transformers.