Michelle Obama's speech was blocked by democrat streaming partner YouTube over copyright last night. Oops. [WIRED]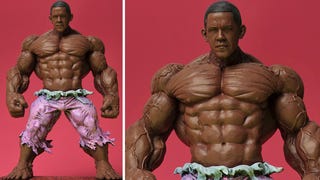 If Shepard Fairey's iconic HOPE poster featuring a somewhat cartoony interpretation of Barack Obama could sell like hotcakes during the last presidential election, then this Incredible Hulk/Obama action figure created by Ron English should be even more popular this year.
How are the almost 400 hundred members of Congress with Twitter accounts responding to the Weinergate scandal?
If you weren't already convinced that Obama is
the candidate of choice for geeks
, there's now an entire website dedicated to preaching his tech merits to nerds everywhere. Yeah, essentially is a bunch of techie talking heads—the CEOs of Craigslist and Real Networks, Googlers, former Wired editors, among others— you…
Click to view
Need more evidence that Democrats are more than their elephantine counterparts? At a Sarah Palin rally in LA on Saturday, the California Democratic party rented a digital billboard across the street which displayed questions for the veep candiate sent by text message. Granted, even if Palin did read…
Denver's Pepsi Center and Invesco Field are just fine for their concerts and professional sporting events. But when the Democrats come into town for their National Convention this week, the two buildings are getting technologically gutted. In fact, Qwest, Microsoft, Cisco, Google, AT&T, Level3, Comcast, EchoStar,…
The Democrats decided to deal with the devil and hire the Director of Communications for the RIAA, Jenni Engebretsen, as their Deputy CEO of Public Affairs for the Democratic National Convention in Denver. For a party with two of its major candidates for the presidential nomination positioning themselves as populists,…