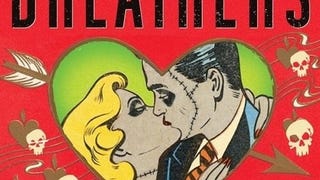 The disappointing performance of Jennifer's Body isn't going to keep Diablo Cody away from the horror-comedy genre. She is producing the adaptation of Breathers: A Zombie Lament, S.G. Browne's zany satire about one zombie's quest for equality... and romance.
We talked bloodthirsty boy-eating demons with Jennifer's Body director Karyn Kusama and learned that the real terror in the story is the co-dependent toxic relationship between two girls.
A new stack of Jennifer's Body clips have been released, including lots of writer Diablo Cody's quippy dialogue and a scene with the evil guylinered band boy Adam Brody. Check them out - but be warned, they're a bit spoilery.

The graphic novel tie-in to upcoming Megan Fox horror movie Jennifer's Body is released today, and if the movie is anything like this, we're in for one confused - but enjoyable - movie that zigs when we're expecting a zag.
Jennifer's Body has a PSA straight from the mouth of the demon monster Megan Fox herself. Hear what the flesh-eating princess has to say about peer pressure. [Break]
Jennifer's Body, the movie about the curvy Megan Fox who just can't keep her demon fangs off of the boys in her High School, now has its own comic. Meet the first character, and hopefully future victim, from Jennifer's class.
Ready to see a vengeful undead cheerleading Megan Fox with a thirst for teenage boys? Fox's role in Diablo Cody's horror flick Jennifer's Body teaches you to make sure your human sacrifice to the devil really is a virgin.
The new big-screen Land Of The Lost movie will be a bizarre treat that actually satisfies fans of the 1970s original. You can take it from no less an authority than Juno scripter Diablo Cody, who visited the set. Her descriptions of the filming, in the current Entertainment Weekly, do sound intriguing (but campy.) And…