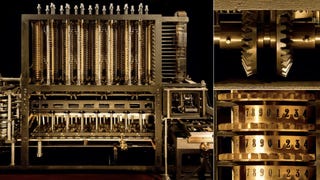 Charles Babbage's difference engine—the mechanical precursor to today's digital computers—is a beautifully intricate machine. Now, you can take a real close look at it using this gigapixel image.

If Charles Babbage and Ada Lovelace had managed to complete the Analytical Engine and usher in an age of Victorian computing, what would they do next? According to one comic, the obvious answer is: team up and fight crime.
The London Science Museum finally completed work on the Victorian era's greatest supercomputer, the Difference Engine No. 2, 120 years after the death of inventor Charles Babbage. This five-ton machine is currently traveling across the pond to San Francisco, and will go on display in America for the first time…


Nineteenth-century computer pioneer Charles Babbage is taken back—via Lego. Andy Carroll, an apparently highly-skilled Lego builder and mathematician, created this functional mechanical computer, modeled after Charles Babbage
s Difference Engine, which was a precursor to modern-day computers.