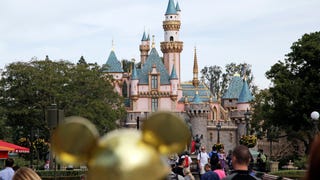 If you've visited Disneyland, you may have seen a small plane fly overhead at one point. The OC is full of rich-ass people, might be a Newport Beach golfer, no big deal, right? Except, as it turns out, the Anaheim police department had access to military-grade dragnet phone spying equipment, the kind that can suck up…
Martin Shkreli, a man who holds the title "most hated" in the disparate fields of health care and rap, is back to his usual tricks: ratcheting up the price of life-saving medications and generally being vile.
If you take a temporary factory job at Amazon, you have to sign away your ability to work almost anywhere else, for 18 months after your gig is finished.
Uber drivers attempting to follow the law are getting screwed by Uber in California. A Buzzfeed investigation revealed that Uber suspended at least 12 drivers last month for properly registering their cars as commercial vehicles. To get their jobs back, Uber said the drivers had to re-register the cars as personal…
Remember MySpace? No, not the new one, but the old, horrible one, the acne of the Internet, the one with Tom's dumb face plastered across it? Ever wonder what happened to him? He makes fun of regular people on Twitter.