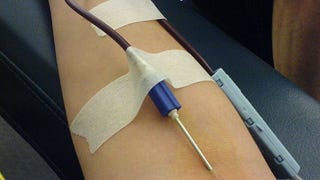 Talk about problematic progress. The AP headline crowing "US Moves to End Ban on Blood Donations by Gay Men" comes with a whopper of an asterisk: gay and bisexual men who wish to donate blood may do so only if they've refrained from having sex with another man for a full year prior.
Discrimination against gays by the Boy Scouts is a big deal because a) it's otherwise one of the best organizations for youth and b) helps define what being a "man" means. This new TV show will tackle the issue head on.
If 15-year-old Anthony Stokes doesn't get a heart transplant, doctors say he'll die in six months. Doctors are denying him the transplant too, because "they don't have any evidence that he would take his medicine or that he would go to his follow-ups." The family says that's stupid and the reason is another one.
In spite of all the criticism Hollywood has faced recently for its awful female-to-male director ratio, women are still being widely discriminated against in the film industry. Maybe, being a generally optimistic person, you might be inclined to think that things are a little more equal outside of the US. What about…
Japan's new right-wing government hasn't wasted time in alienating tens of millions of its voters. According to finance minister Taro Aso, elderly people should "hurry up and die" so that pressure can be relieved on the state to pay for their skyrocketing medical bills.
When Brian Johnson and Nile Charles visited Manhattan's Upper West Side Apple Store last December, they were looking for some cutting edge gadgets and gizmos. What they got, they allege in a lawsuit, was some cutting edge racism.
You might have heard of the teen-repellent noisemaker a store owner employed in his parking lot in the UK, and now that squealing device that supposedly makes an extremely annoying racket that only teens can hear has found its way to the United States. The device has been named Kids Be Gone, as if paying customers…

Discriminav, the fictional product depicted in this sketch from the Fox Network's Talkshow with Spike Feresten is an over-the-top concept. But wait. Honestly, aren't there some areas of your town you'd rather not drive through in the middle of the night?