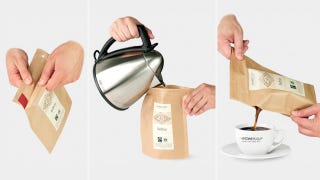 The Grower's Cup coffee maker is billed as a hybrid between a filter dripmaker and a french press, except that it's more portable than both of those options, and is also completely disposable. Which makes it easier to carry and use during camping trips, or during any emergency that can be resolved with a tasty cup of…
Disposable cameras may be on their way toward sharing a fate with the dodo bird, but until that day in the not-so-distant future you should be able to find two of them and make this hacked-together 3D camera.
Hop-On
, makers of the first disposable cellphone and other low-end pieces for developing markets, has announced that their Android phone will debut at 2009's CES. Android seems like a perfect fit, with its licensing cost of zero allowing Hop-On to drive their prices even lower. No word on availability or price other…
The British company behind the Juicebar are billing it as "the world's slimmest emergency phone charger." The device looks about as big as a cardboard coaster, but apparently it is capable of powering up a phone for up to 480 minutes of standby, or around 60 minutes of talk time depending on the device. Full charge is…
You may recognize Hop-On from their wide array of cheap-o disposable cellphones and budget-friendly mobile devices. The company is looking to build on this reputation by unveiling six new phones including the $125 HOP 1801 smartphone and the HOP1809 which they claim will be one of the cheapest 3G capable phones you…
Phone maker Hop-on Inc. apparently found success at CTIA in Las Vegas with its disposable cell-phone concept, a $20 (13 euros) phone with no LCD screen that can be thrown away or recycled after use. The company said on Thursday that a European distributor has purchased 10,000 of the phones for an initial test run.…
Here's another video camera concept from the folks at Yanko Design. The Glide, which is the brainchild of Greg Schramek, is a USB drive with a lens and controls for shooting video. Once you've finished shooting your digital masterpiece, you trade the drive in at a grocery store kiosk where it's converted into a DVD…
Tired of shooting with CVS' fugly disposable video camera? Then check this one out. It's a prototype for a new breed of disposable vid camera, one that would save you money by letting you keep the camera once you're done shooting. All you need to replace is the DVD. This would be a great option for newbies who just…
When scientists aren't working on curing world hunger/cancer/AIDS, they create dresses that will dissolve in water. The "fabric" is made from polyvinyl alcohol, which will partially dissolve into recyclable (liquid?) material when washed.
Minus their wearers? I think we're missing the point here. [via ]
Last week we told you how Panasonic was working on a smaller, Direct Methanol Fuel Cell system to power portable electronics, but there's more going on out there in this category than we thought. Take the fuel cells from Medis Technology, which use borohydride alkaline solutions instead of the Methanol. For under…
Don't get me wrong—postcards can be cool, but the entire concept behind them just grinds my gears. For example, when my Aunt sends me a postcard from Florida, she probably interprets it as "Wish you were here," while I interpret it as "Aren't you jealous that I am in sunny Florida while you are stuck in freezing…