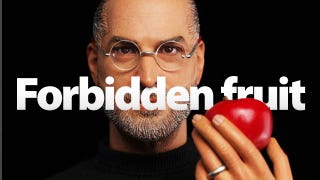 This is not the first Steve Jobs, but it's definitely the most realistic. So realistic that it actually freaks me out. It's 12 inches high (scale 1:6) and comes on full Apple CEO regalia, from the New Balance shoes to the Levi's.
Another two classic poses. New Balance shoes, Levi's jeans, different hands and a…
Some men buy sophisticated, ultra-realistic sex dolls choosing face models, body types, bust sizes, and even adding sensors that make them moan. This is the first time, however, that I've heard of a man cloning his ex-girlfriend in silicone.
It rotates. It has blinking lights, a disco ball, and a pole. And it's probably one of the wrongest toys you can give to any girl. Because, unlike the USB Pole Dancer, this one is actually for kids. [Thanks David]
Meet the offspring of iRobot, and Transformers creator Hasbro. No, really. Back in 2000, the two companies teamed up on a project to create a baby doll called "My Real Baby" that had emotionally expressive animatronic facial expressions.
SACRED IDOLS AVAILABLE GOOD LUCK FOR YOUR HOME AND OFFICE! plush STEVE JOBS!!!
MSNBC had an impromptu demonstration of its new Microsoft Surface table this morning, and gave political analyst Chuck Todd a chance to play with his dollies. At first, the goateed Todd moved states around, zooming, coloring and highlighting with his finger. Though he didn't really have a full handle on all the…
Today, after years of secrecy, autopsies, and extraterrestrial bodily fluids and Tijuana tequila cocktails, humanity jumps once again into the deepest pits of indecent horror, pits which we thought we wouldn't revisit again after the talking clown urinal, the sickening Jesuswitch and the twisted Spongebob Squarepants…
Feel like doing it yourself? Fleshbot points us to a tutorial on how to build yourself a "realistic" sex doll out of spare parts you have lying around. We're not sure how many of us have mannequin parts lying around to make a sex doll out of, but a can of Pringles and the end of a lightsaber we definitely do.
If having buff action figures on your desk reminds you of your own flaccid muscular structure, then this Geek Man figure will make you feel like Dolph Lundgren. Complete with a BlackBerry, a Windows (Acer? Lenovo?) PC, an analog watch, coffee mug and gigantic spectacles, the Geek Man really does remind us to get out,…