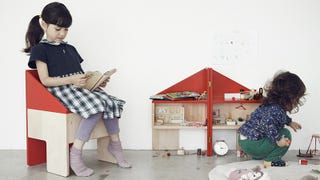 It doesn't take long for a child's bedroom or playroom to become filled with a sea of toys, furniture, and playsets leaving it a perpetual mess. So like with any room in your home, finding furniture that does double-duty can help maximize that space, and this child-sized wooden chair that transforms into a dollhouse…
Think the human-race is alone in eyeing up chrome and glass houses like we "often feature" on Giz? Dolls like the touch of a cold steel kitchen bench too. Doubling as a lamp, humans benefit from this dollshouse as well.
Nielsen's list of the top ten "time-shifted" prime time TV shows takes stock of whose ratings benefited the most from DVR in 2009. What do they have in common? They're all the shows you keep begging your friends to watch.


On last night's Dollhouse, geek god Patton Oswalt plays, well, a geek god who manages to name-check the Kindle in a totally non-derisive way. Check out the clip below.
It is high-time that your Star Wars figures, GI Joes and Barbies woke up from their fantasy worlds and realized that in the real world, there are limits to the power we can consume. The first step in their education would be to move into one of these Power Houses and learn what life would be like without fossil fuels.…
Tomboys in our youth, we always eschewed doll houses but would consider unearthing our Star Wars action figures to set them up in the exquisitely modernist Villa Sibi doll house by Wolfgang Sirch & Christoph Bitzer, made of birch with beech furnishings and plexiglass windows. We'll probably never live in a real house…