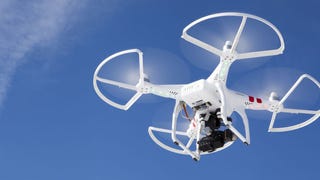 Drones: beloved by amateur photographers, scourge of air traffic controllers and firefighters nationwide. Now, you can add power companies to that list.
Your neighbor's droning hobby is about to get a little more complicated after an announcement of a new task force from the Department of Transportation. The group of 25 to 30 will decide which drones won't need to be registered with the feds. The takeaway? Some drones will need to be registered.
Americans are simply not driving as much as they used to; most experts agree we hit "peak car." But that's not the story according to the Department of Transportation's forecasts, which year after year show skyrocketing demand for more roads—and year after year are proven wrong. Still, states use this data to fund…
With mountain bike racers now reaching motorcycle speeds, the full-face protection of a DOT-certified, full-face helmet is needed. But, street-legal motorcycle helmets have always been too big and too heavy. Enter this new Kali Protectives Shiva, the smallest and lightest helmet of its kind ever made.
Building the TSA from scratch in the months following 9/11 seemed an insurmountable task, unrivaled in both scope and size. In Permanent Emergency, former TSA administrator Kip Hawley vividly reconstructs the breakneck pace at which this gargantuan security agency came about and how it came to be an institutional…
Would you let your car drive itself? The US Department of Transportation wants to know. This month, the DOT is having volunteers from around the country drive cars equipped with short-range car-to-car communication systems that allow the vehicles to not only "talk" to one another, but warn their passengers of…
It's official: Now that Packard Bell has unveiled the Dot, every computer manufacturer in the known Universe has produced the same 8.9", 1.6GHz Atom, 1GB RAM, XP-running system. So what's next for technology? Similar to how mothers' clubs have sponsored bake sales and knitting circles for decades, look for netbooks to…
The US DOT has approved transportation of methanol fuel cell cartridges in your baggage and carry-on luggage, according to one fuel-cell maker. If you're lucky enough to own a fuel-cell system, you'll definitely be able to fly with it come October, when the ruling goes into effect. But this ruling only allows you to…
Confirming what everyone pretty much already knew—that Vista upgrades are going to be slow coming—Intel CEO Paul Otellini told attendees at the Bank of America Technology conference that he knew "of no organization doing an upgrade before SP1," adding that "Intel isn't upgrading either (until SP1)."

We love LED dot matrix accessories, but more in the studying from afar kind of way. Our geekdom speaks for itself when new acquaintances notice our general disheveled appearance, strange odor that hints of decay and compete misunderstanding of social behavioral norms.