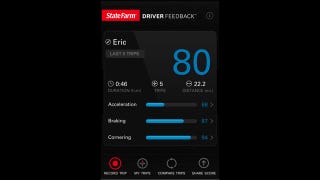 Just in case the old ladies flipping you off after you clip them in the crosswalk isn't enough, State Farm has released the Driver Feedback App to rate just how poorly you drive. By measuring (and recording!) how hard you accelerate, brake and corner based on your iPhone's accelerometer and GPS location, the app is…
A 21-year-old woman was allegedly updating her Facebook page by cell phone when she struck and killed a 70-year-old pedestrian.
In this week's mildly paranoid iPhone app roundup: Prices, slashed for the holidays! iPhones, recklessly tilted! Amazing classic games, handily ported! A decent camera app, sold for nothing! Cheap tickets, booked! Dictations, taken! Movies trivia, two ways! And much, much more...
Though mobile graphics drivers have historically been available only from the laptop manufacturer, Nvidia finally posted their official drivers on their site. Say goodbye to those 3rd-party hacked and often buggy drivers!
The HTC video driver controversy might be coming to an end, as the promised software fix may or may not be released soon. Why the uncertainty? Because HTC themselves didn't specify whether this update even fixes it, not confirming one way or the other that on it enabling Qualcomm's 2D or 3D graphics support. Actually,…
We were pretty frakin' tired waking up at 5:30 in the morning to hack through LA traffic to get to E3 last week. This alert driver fatigue wrist device could have saved us from all those near-misses.
Practice your swing and exercise your dog simultaneously with this tennis ball Doggie Driver. Place the special ball into the driver by pushing the opening of the club on it to lock it in place. Then pull the driver back like a standard golf club and swing normally to launch the ball up to 100 yards. Just make sure…

This driver sleep monitor has been talked about plenty before, but it was fun to see it in action in Delphi's booth. It finds your eyes in an instant, and then bleats when your lids are closed for more than a few seconds. It would have to be installed in the car's driver-side dashboard display, but I was assured that…