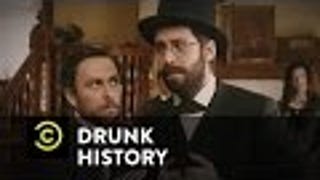 Drunk History is in many ways the best show on television at the moment. You get the LOLs of absurdist sketch comedy while arming yourself with enough History Channel-quality Fun Facts™ to make you sound smart the next day. At the same time, it feels like hosting a party in your living room—one that inevitably ends…
Earlier this month Crispen Glover explained all about remaking history as Thomas Edison with John C. Reilly, who played Nikola Tesla, on Drunk History. Watch the first clips from this segment, and learn about why Edison was such a dick.
We're big fans of Nikola Tesla around these parts, which is why I'm so pleasantly shocked that he's gotten his very own hilarious Drunk History treatment. And hey, it's actually pretty accurate!