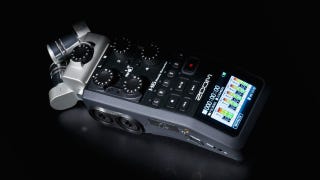 Back in April we learned that Zoom had a successor to the popular H4N audio recorder in the making. Details were slim, but it certainly looked promising. Well now we have the full low-down on the new device.
Canon DSLRs are popular for video shooting, and you can pull beautiful footage from the low end Rebel series to the high end 1D series. But what is the difference in image quality in a price range from $1000-$7000? We've had a Rebel T4i, 5D Mark III, and 1DX all in ou possession, so we decided to take a closer look.
Panasonic has just gotten around to releasing their next Micro Four Thirds camera, and it looks awfully familiar! That's because the GH1 is, more or less, the G1, with added 1080p HD video capabilities.
The limitation are essentially identical—necessarily short recordings due to an sensor-preserving liveview shutoff, the need to be tethered to a PC, the limited output quality (less than 480p in this case)—but the fact remains that with no more than a piece of software, which Giroux plans on releasing as soon as he…
This is as straightforward as these kinds of things can get—just run the app and start recording. How-eva: you need to be connected to a computer for this to work at all. This hack can only record video to your PC, so unless you have a particularly small laptop to strap your DSLR to, this could be unwieldy. There's no…
Yeah, sure, it was cool to see a professional photographer spin HD video gold from the Canon 5D Mark II. But that guy is famous, had a mountain of equipment, a crew, and a freaking helicopter. Not so for the humble photographer and videographer at Akihabara News, who took the 5D, a few days and a laptop to shoot and…