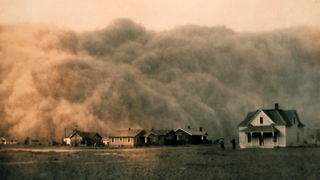 During the Dust Bowl, people living in northern Texas and Oklahoma had to contend with storms of flour-fine dust that could last for days. The dust blasted through the cracks in window frames and under doors, blinded people, and smothered cattle to death. But it also made people into walking tasers.
The current drought in the U.S. certainly feels like it's one for the history books. But it's likely not the worst North America has seen in the last millennium. A new study from NASA shows that a drought in 1934 was by far the worst to strike the continent in 1000 years.
In the 1930s, the southwestern Great Plains suffered a series of severe droughts. Overfarming and overgrazing had destroyed prairie grasses, making the topsoil even more vulnerable to strong winds. NASA scientists now say that one of those drought years, 1934, was the driest and most widespread in a millennium.
Some of America's biggest historical events, like Gettysburg or the Dust Bowl, are also some of the most complex—and rife with contradicting accounts. A new digital mapping system aims to apply Google Earth-like functionality to American History's mysteries.