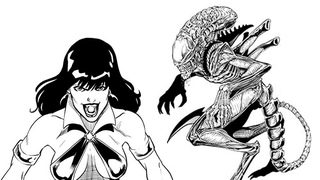 The aliens of, err, Alien have been a part of many crossovers, especially in the comics realm. Versus Predator, of course. Versus Batman. The list goes on. But their latest comic book crossover will see them go up against horror heroine Vampirella, and presumably, there will be blood.
Dynamite Entertainment's planned revival of classic patriotic superhero Fighting American has hit a roadblock, with one of the character's creators proclaiming that he had no idea it was happening. Perhaps he should've talked to his lawyer?
The first issue of Dynamite Entertainment's Buck Rogers promises a potentially bright future ahead... as long as we can all get past the difficult launch. Spoilers (and deadly bears) ahead!
Dynamite's Buck Rogers comic series starts with a whole lot of Buck kicking ass (if giant amoebas had them, which I kind of doubt) and taking names (which, actually, the amoebas also don't have).
He may be a man in the wrong century, but the new comic incarnation of Buck Rogers is looking pretty timely for publisher Dynamite Entertainment, with the first issue reaching a record number for publisher.
Dynamite Entertainment has released Alex Ross's painted cover for the first issue of its new Buck Rogers series, and it's the kind of old-school goodness we'd wanted all along. Click through for the whole thing.
Indie comic Hack/Slash is about to become a lot more independent, after a legal battle over the ownership of cult zombie movie Re-Animator spilled over from the courtroom into the comic book world and forced them to choose between pulling the series or getting dumped by their distributor. But can the tentacles of…
Now it's not only onscreen that the Terminator has two different futures; IDW's announcement yesterday of a Terminator: Salvation prequel comic book (along with an adaptation of the movie itself) means that Dynamite Entertainment's ongoing line of Terminator comics (Itself separate from Dark Horse's Terminator: Omnibus…