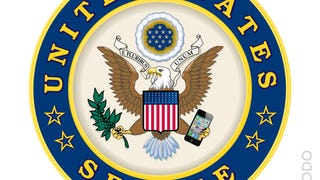 AppleInsider has posted an open letter to Steve Jobs by New York Senator Charles Schumer (D). The letter strongly criticizes the iPhone 4's antenna problem. We have confirmed that the letter is real, and it'll be officially published soon:
I respect what Barnes & Noble is doing with this multi-reader ebook strategy, and I'm glad Samsung's finally been brought in from the cold, into the warm presence of a real ebook collection, but $300 for this thing? Really? UPDATED
One is a rough manufacturing start date for a display component, and the other is an announcement so vague it barely means anything. But lest you forget: Pixel Qi's multi-mode, e-ink-shaming LCD technology is amazing.
E is a social networking tool that makes it easy to trade business cards, personal info and automatically connect to each other on most social networking sites. And yes, there's an iPhone app.
NBS' E. V. A. and Butterfly speaker systems are freakishly awesome and horrifying all at the same time, especially with those pointed edges. Cause, really, I thought it was a bench.