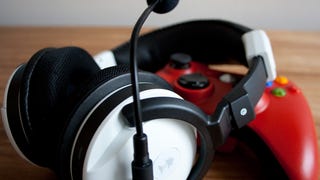 The Ear Force X4 was a rare and wonderful product, the only Xbox 360 wireless surround sound headset to integrate voice chat smoothly into the mix. Now the sequel, the Earforce X41, is even better.
This photo? It's of the Ear Force X4. I liked the system quite a bit back when I reviewed it. Now, the latest edition of this Xbox 360 wireless surround chat-ready headset sounds even better with one really great update.
Ever spend five minutes yelling, "SIT! SIT! SIT!" at your DS only to have the other people on the subway get up and move away like you were a psycho? Check out this Ear Force D2 from Turtle Beach. This Nintendo DS headset includes both headphones and a mic, which means you can both hear and speak without bothering…
Now available is Turtle Beach's latest addition to their Earforce line of high-end headphones, the X1. These headphones are compatible with the PC or Xbox 360 through USB connectivity—yes, they do allow you to talk smack over Xbox Live—and are available now for $60.