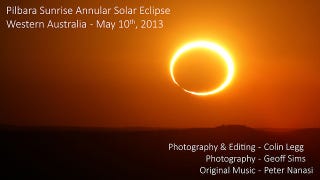 There's nothing quite like a total eclipse (of the heart), but an annular eclipse is a close second. Especially if you're into rings of fire. And after you watch this incredible video from one that took place in Pilbara, Australia last weekend, you'll be a fan.
This faceless clock by Swedish industrial designer Jesper Jonsson tells time with light and shadow—OK, it may not be the most functional clock—but it totally looks like a solar eclipse, and really, why settle for having a clock on your wall when you can have a rare astronomical phenomenon! [Designboom]
Late Monday night—well, actually, early Tuesday morning—the moon will move into the earth's shadow, causing a lunar eclipse visible to anyone in North America. Even better, it's happening on the Winter Solstice, for the first time since 1638.