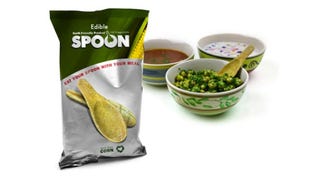 The idea of an edible utensil isn't exactly new, but nothing's been quite as convenient (and non-sticky) as Triangle Tree's brilliant if not entirely appetizing-appearing Eco-Spoon.
The chefs at Alinea, very probably the best restaurant in Chicago, have cooked up a super fun dish that'll brighten up any dinner table: an edible helium balloon. Yep, the entire balloon is edible, right down to the string which is "obviously dehydrated apple". The ballon is filled with helium and you can either pop…
Here's an idea I can get behind. Edible crayons! Luxirare created a box of eight colors (flavors?), using household ingredients such as nuts, sesame seeds and melted marshmallow for the white crayon.
Still frustrated with the inability to devour your very own cellphone because it could damage your mouth and not taste very nice? Allow this marzipan cellphone to relieve your woes. This Blackberry looking phone is constructed from 100 grams of marzipan from Lübeck marzipan legend J.G. Niederegger. At least you won't…
Tired of passing rock-hard nodules of compressed petroleum by-products? Try noshing on edible plastic instead. Plantic, a plant-based plastic, tastes like state bread yet is wonderful with some fava beans, a nice salad, and a bottle... wait, what do you drink with plastic? Red? White? – John Biggs