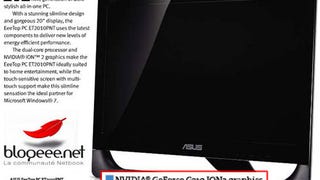 The Asus EeeTop ET2010PNT has officially been espied in a promo shot, and it's apparently packing a multitouch 20-inch (1600x1000) screen and Nvidia Ion 2 graphics. Not too shabby!
ASUS likes to throw crap against the wall to see what sticks and in this case they put voice recognition into its newest EeeTop. The software is accurate, but I'm not seeing the need for it in a 20-inch PC.
Who knows if it will work, but Asus wants to put "an end to the keyboard." So a variety of Eee products will roll out with voice recognition capabilities later this year.
Looking for an all-in-one but don't want to pay Apple-level prices? Well, the new Asus EEE Top is now available for preorder in the US.
Asus' long awaited all-in-one touchscreen PC, the Eee Top, is now out in the wild... at least in Taiwan. The 15.6-inch display "nettop" runs Windows XP and holds an Intel Atom N270 processor with 1GB of memory and a 160GB hard disk drive within its chassis. It also comes with a 1.3MP webcam, two integrated 4W…
After the
DIY
, and initial , official word is out that there'll be a touchscreen Eee PC next year. And that's from none other than the CEO, Jerry Shen, himself. The guys over at got the low-down from Shen, who confirmed the machine will exist by "early 2009," and will actually be running Windows 7 by mid 2009.…