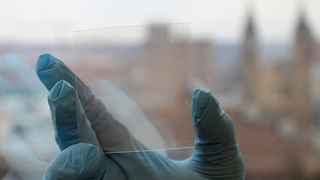 The truly shatterproof screen is a little bit like the flying car: It's been promised for years, but never arrives. Scientists at University of Akron claim they've cracked the code, so to speak, by creating a super-tough screen out of transparent electrodes.
It's been almost a year since Bill Gates put out his $100,000 call for better, high-tech condoms, and we haven't found a new defacto standard yet. But Firaz Peer and Andrew Quitmeyer of Georgia Tech have a potential solution, if you're OK with putting electrodes on your manparts.
Women have the ultimate trump card when it comes to dealing with pain: they give birth. And since men have no idea what giving birth even feels like, we really don't know how painful it really is. Maybe it's all a big conspiracy (kidding!). Maybe it's not that bad (of course it is!). Well, two men attached…
A neural engineer from Case Western Reserve University is reviving paralyzed limbs with an electricity hack. It's a brilliant workaround for spinal cord injuries, and it may someday let paraplegics activate their legs just by pushing a button.