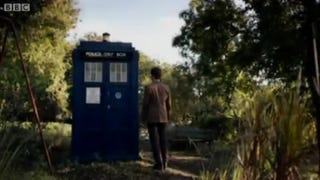 We've had a week to let David Tennant's departure sink in, and now it's full steam ahead, all systems go, and, well, GERONIMO for the Eleventh Doctor. So what clues does the fifth series trailer hold? Spoilers and speculation ahoy!
Another week, another candidate to accompany the new Doctor in his new Tardis. But, unlike some earlier candidates, Hannah Murray may be a more believable choice to travel through time on a television budget.
The BBC has announced the name of the actor who'll take over the lead role in Doctor Who next year, following David Tennant's departure this year. Let's just say that it's not who we expected.

Could the Master be the new Doctor? That's what one newspaper is claiming. John Simm, who danced rings around David Tennant as the psycho arch-villain, is the "hot favorite" to play the Doctor when Tennant leaves. But it's unclear how the show could get around the fact that we saw Simm's body being cremated: