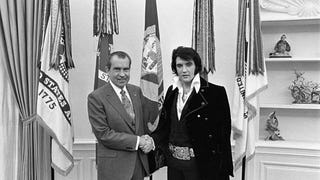 What do you suppose the most requested photo from the U.S. National Archives might be? Troops raising the American flag on Iwo Jima? That sailor kissing a random woman at the end of WWII? Nope. It's Richard Nixon shaking Elvis Presley's hand.
What do Marlon Brando, Sophia Loren, and Audrey Hepburn have in common, besides being beautiful and mostly-dead? They apparently loved their vinyl records, as captured in this wonderfully nostalgic gallery. Also, there's a photo of Chewbacca sexy-relaxing (with records!).
Hip-shaking, pill-popping rocker Elvis Presley officially died in 1977, but he keeps popping up, at least in science fiction. Think Elvis lives? We list scifi's explanations for what really became of the King.
Screw the Journey-themed PMP, this custom Zvue player has real music aboard: from Mr Presley himself. Ten video clips to be precise, and Elvis's signature and photo engraved on the back shell. Part of Zvue's Premier Artists Series, it's got 1GB (expandable to 5GB with microSD,) a 2.4-inch colour TFT screen, FM tuner,…

You remember last Friday's Elvis robot from WowWee Alive? You remember how our unboxing got extra creepy when we decided to see what was under the skin of the replicant King? If you didn't think it could get any weirder, watch our video, in which the faceless Elvis robot sings, wiggles and banters with unseen lovely…
There was no need to perform a Voight-Kampff test on this skin job. It came from the folks who introduced the world to the Robosapien—and besides, it had infrared vision sensors and no arms or legs. Since we showed you the first glimpse of robot Elvis at CES, we realized that now that it's out, the only direction to…