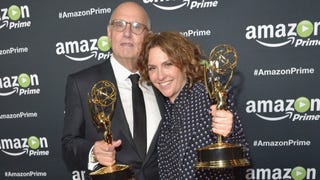 Okay, first things first: No, Game of Thrones' fifth season almost certainly shouldn't have won the award for Best Drama Series over Mad Men at last night's Emmys. Second: Yes, this is another Game of Thrones VFX reel, and yes, Game of Thrones absolutely deserved to win its fourth Special Effects Emmy, as this video…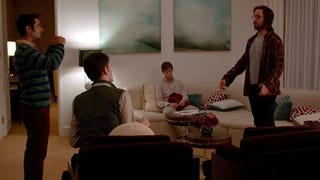 The Emmys are starting momentarily and the list of nominations looks like it was regurgitated from two years ago. Mad Men again? Downton Abbey, yawn. Does anyone really watch Veep? I'm rooting for one of the smartest, most original, and consistently hilarious nominees in years: HBO's Silicon Valley.
Not that we needed any further proof that GoPro's hardware is the compact camcorder of choice for anyone looking to capture a unique first-person perspective, but the company recently won a Technological Emmy for its creation. And, of course, the company's founder captured the whole event with one of its cameras.
The protagonist of this Emmy-awarded series about the lives of surgeons—which uses "a color-blind casting technique" to represent "the world that [she] walks around in every day"—said that she didn't see any diversity in the Emmys at all.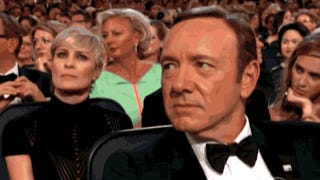 Kevin Spacey and the rest of the House of Cards team didn't get the Emmy for the best drama series they deserved, but who cares. It's just as good now as it was before. Here are the highlights from the ceremony by Defamer, Gawker and Jezebel.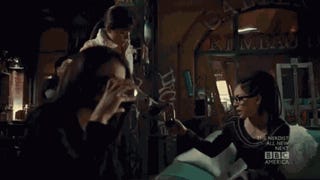 We can now add "award-winning" to Tatiana Maslany's name. This week, the Orphan Black star won a Critics' Choice TV Award, generating buzz that she could receive an Emmy nod, which, if there is any justice in the entertainment world, she will.
At last night's Emmy Awards, Game of Thrones breakout star Peter Dinklage scored a well deserved Best Supporting Actor in a Drama Series for his depiction of Tyrion "The Imp" Lannister, the besotted lothario whose wrist is as sharp as his tongue. Let's celebrate his win with Tyrion's greatest quips. [EW]
After Pushing Daisies won four Emmy awards - including last night's Best Supporting Actress in a Comedy nod for Kristin Chenoweth - leave it to the show's creator Bryan Fuller to say just what we were all thinking.
Dark Knight's Oscar buzz has been circling since the first "Why So Serious?" ad. And now that some science fiction television series garnered a handful of Emmy nominations yesterday, people are wondering if this could be the year the red-headed stepchild of the entertainment industry gets a well deserved pat on the…