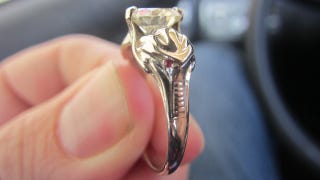 When Michael Moragne decided to propose to his girlfriend Amy, he wanted to give her a ring that reflected not just their love, but also their shared love of Battlestar Galactica. Using the central diamond and gold from his grandmother's engagement ring, Moragne had a new ring made — one with Cylons hiding on the band.
We've seen all manner of geeky engagement rings, from Starfleet insignias to companion cubes to TARDISes. But what sort of ring do you get for the Star Wars devotee in your life? One man designed an R2-D2-inspired engagement ring sure to send his girlfriend into happy beeps and whistles.
Perhaps you've seen Pathetic Peripatetic's concept design for a sapphire and diamond TARDIS ring. Now that ring is a reality, just the thing for when you've your perfect companion.
For the lady who loves Star Trek and doesn't mind hearing the same joke over and over again, Etsy seller VaLa Jewellery offers this engagement ring in the shape of the Starfleet insignia. And, in Federation-appropriate fashion, it's not studded with a diamond, but instead with a white sapphire. The ring is sterling…
Imagine the look on your girlfriend's face as you pull out this ringbox. Extreme happiness, segueing into extreme disgust, as she realizes you went to the trouble of presenting your proposal on video, shown on the inbuilt 2" LCD. [Gadgeteer]