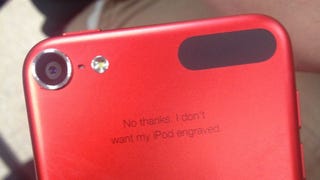 Another reason why you don't need a f*cking case for your iPhone 5: laser engraving. They look really cool and, as far as I know, they are the first ones out there.
The etched iPhone 5 looks equally as cool, especially the white model.
This photo is showing you the edge of a razor blade at about 400x magnification. Yes, that's how close you have to get in order to read the motto hand engraved onto the surface by a 64-year-old man named Graham Short.
The red version of the 80GB Zune is now customizable via the Zune Originals site. Head on over and pick out a custom design and custom text for your own Zune, which you could then use to propose to your girlfriend with. If you do use this idea, email me. I want to talk to your crazy ass. [Zune Originals]
Nothing says I Love You like a cheesy message on the back of an iPod that will outlast the crappy relationship. Just in time for Valentine's Day, Apple has brought back free iPod engraving, added free gift wrapping and included free shipping. For those late shoppers, here are the ordering deadlines:
Remember when Apple was doing custom engravings on iPods for free back in the day and everyone was giving and receiving iPods with cheesy stuff engraved? Yeah, that idea is back, but from Lexar. Lexar is offering up this absurdly overpriced 1GB JumpDrive for $80, but you can get it custom engraved up to 20 characters,…