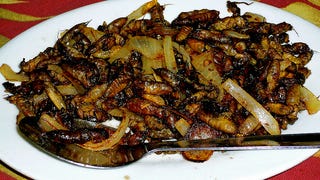 "Eating bugs is a great idea!" shout future-minded gourmets, the kinds of people who eat waxworm tacos willingly and feed bug cookies to their coworkers. But are insects like crickets and grasshoppers really the solution to our environmental and food-security woes? Well... maybe not. Not entirely, at least.
You may feel squeamish about chomping down insects with their eyes, legs, and antennae still intact, but would you eat insects if they were disguised in butter and sugar-filled cookies? We baked chocolate chip cookies made from pulverized insects and brought them to our office where our brave coworkers tasted them.
Whaddya mean you didn't chow down on cicada during this summer's mass emergence? You'd be surprised how delicious those little creepy-crawlies are with a bit of salt and vinegar. Besides, if you had, you'd have gotten a head start on our inevitable bug-eating future.
Earlier this month, the UN released a paper touting the nutritional and environmental benefits of insects. The paper caused quite a stir in the media, with a mix of fascination, head-nodding, and not a little revulsion. But why is the UN advocating entomophagy? Why aren't we eating bugs already? And should you really…
Let's say that in your post-apocalyptic wanderings, you stumble across a home or restaurant with a particularly sturdy—and well stocked—wine cellar. Suddenly you have a plethora of varietals at your fingertips, but your daily diet still consists of SPAM, small rodents, and MREs. How do you know which wines will best…