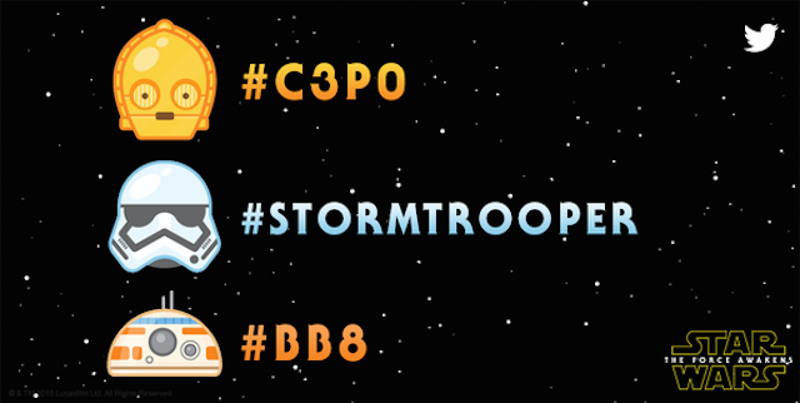 Hey guess what, there's a new Star Wars movie coming out! And as the latest ploy to dominate the online conversation, the film has partnered with Twitter to create emoji-generating hashtags for three members of the Episode VII universe, just as a new teaser trailer hits at Star Wars Celebration.
As we come to the end of 2014, year of the Star Wars: The Force Awakens trailer, we head into 2015... year of the mashups of said Star Wars trailer. We've featured some good ones here on io9, but this Lego-ified take might be one of the best.
We have potentially reached peaked Crossguard Lightsaber madness (oh who am I kidding, we've got another year of this) - we've seen it in fan art, we've had it 3D printed, and now, here's The Force Awakens' shiny new lightsaber made out of laser beams. Because why not?
For a character that we've seen roughly 2 seconds of, The Force Awakens' Ball Droid has created a weirdly excitable fandom. He's got his own parody twitter. People are tattooing him on themselves. And now, months before Disney's merchandising mania truly starts up, you can 3D print a Ball Droid of your own.
I'm surprised by the quality of some of these Star Wars: The Force Awakens trailers made by fans. Some are so good that they could be made into the official ones for all I care. Like the one above, by Kode Logic. It seems like all fans are mostly excited by the crusader-type lightsaber from the trailer.
Yes, while we spent yesterday screaming our heads off and then composing ourselves long enough to pick apart the mysteries of The Force Awakens' first trailer, the artists of the Internet set to work - and have already made some excellent fan art to celebrate the new movie. Here's a look at some of the coolest so far.
Disney unveiled Episode VII's true name last week, and well... it's certainly a title for a Star Wars movie. Not a fan? Well now there's a neat little tool that lets you drum up a few Star Wars logos of your own.
It's been a bit of a crazy week for Star Wars rumours - earlier this week we had Imperial teases and shots from location filming, but now we've got a few more secrets from Episode VII, including what might be a look at Daisy Ridley's mysterious character.
A new J. J. Abrams' Star Wars VII video shows a new version of the X-Wing starfighter. It may look like a Z-95 Headhunter because it doesn't appear to have the classic s-foils that open to give it it's X attack shape, but this official tweet says it's the real thing. So, ladies and gentlenerds, behold the X-wing Mark…
This video released today shows director J.J. Abrams on the set of Star Wars VII in Abu Dhabi, where he has just announced a competition to win a chance to travel to London and appear in the new film.
With the cast of Episode VII finally revealed, I have to admit, I am getting pretty freaking excited about a new chapter of Star Wars blasting its way into contemporary pop culture. In honor of Star Wars Day, let's relive your best Star Wars moment from your childhood—or your adulthood!
Since it's pretty much an open secret that the old cast members of the original Star Wars trilogy are coming back for the next movie, this portrait of them at their current age should absolutely be the next movie poster for Episode VII. Hand painted by artist Adam Schickling, the portrait captures our favorite heroes…