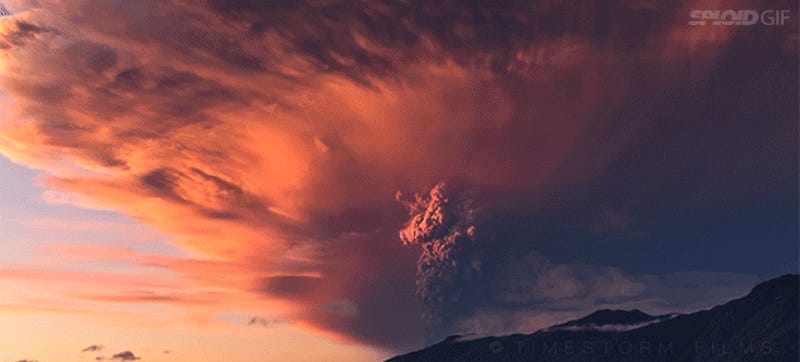 Whenever I see an epic volcano explosion, such as this one of Volcano Calbuco in Chile exploding for the first time in 40 years, from the comforts of my own home through a glorious time lapse video shot in 4K, I can't help but wonder about a time without video cameras and the Internet and cities and light pollution…
Picture it: you're out hiking, shooting some video of beautiful Chilean waterfalls, when the mountain in the background suddenly starts erupting (for the first time in four decades). Frankly, this guy's reaction is way more subdued and devoid of terrified shrieking than ours would have been.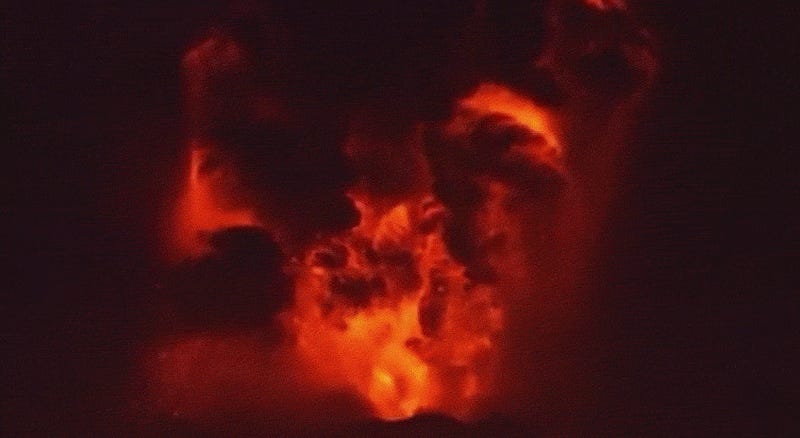 Calbuco, a stratovolcano in southern Chile, began erupting yesterday at 7pm local time. First spewing massive ash clouds then, at 10pm, erupting explosively as its fragile structure collapsed inwards. Here's all the stunning imagery and video; we'll keep it updated as this develops. You can see it from space!
Put your face close to your screen and hit play. This short video, uploaded by YouTuber Shaun O'Callaghan, was shot from a DJI Phantom quad-copter as Yasur volcano on Tanna Island in Vanuatu erupted.
You don't need to travel into a brown dwarf star's atmosphere or Saturn's hexagon to see colossal lightning. Just look at these photographs taken by Francisco Negroni of the eruption of the complex volcano Cordón Caulle, in Chile. He told me that, while scary, there was no immediate danger:
Holy Jesuspants. The image was already astonishing but this video made my head spin. Watching this magnificent violence from every angle is a good way to realize how lucky we are to be alive, precisely because of that titanic ball of fire in the sky.
I don't know if it's the most amazing view of a solar eruption ever recorded, but it probably is. When our friends at NASA Goddard sent us this image of the latest solar eruption today, we just couldn't believe how astonishing and ominous it looked.
Here is a processed version of the same image, a "lighten blended…