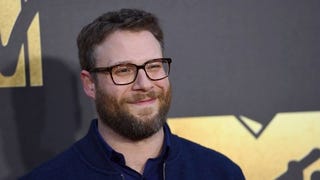 Jesus H. Christ, Seth Rogen, Evan Goldberg, and the Rock could team up and have the unstoppable power to produce every single piece of future entertainment.

About two minutes into the R-rated animated food movie Sausage Party I had a realization—the film that the trailers were advertising was not the movie I was watching. That movie, about food that realizes what happens when they get bought, looked like it has a lot of R-rated jokes, and not much else. But the real movie…
When the first things you see on a TV show about a preacher in Texas are the words "Outer Space," you know you're in for something special. And special is exactly what the first episode of AMC's Preacher is. The long-awaited live-action adaptation of the 1995 comic series by Garth Ennis and Steve Dillon done with…
You probably didn't realize it, but if you sat down to watch a Seth Rogen movie in the past several years, you were making Preacher possible. He and writing/directing partner Evan Goldberg have been trying to bring Garth Ennis' acclaimed comic to life for nearly a decade. This Sunday, all their persistence finally…
It seems like comic writer Garth Ennis is taking a liking to Seth Rogen and Evan Goldberg. The duo are in the midst of bringing his comic, Preacher, to AMC and now they're hoping to bring another of his famous works, The Boys, to Cinemax.
Earlier today, we found out that the AMC show Preacher would be premiering May 22 at 10pm. But a lucky few who are attending South by Southwest in Austin actually got to see the pilot, and they took to social media to react. Thankfully, they loved it.
This is the End is a comedy in which Seth Rogen, James Franco and a host of celebrities play themselves, facing the end of the world. Does that sound like a weird concept for a film to you? It certainly sounded weird to studio execs, who fought hard against letting a host of famous people lampoon themselves — and die…