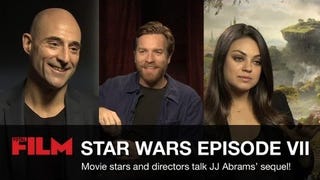 Total Film asked a wide variety of actors and directors if they'd like to be involved in J.J. Abrams' upcoming Episode VII. As it turns out, yes, most actors would like to be part of a movie that will likely make $1 billion... except for Jason Statham, who is far too important to lower himself to Ewok-level.
We don't know what to do with Bryan Singers' Jack The Giant Slayer. It's shooting for fun and epic but landing somewhere in strangely silly. This longer trailer finally shows off the giant's land and the evil villain Stanley Tucci (flanked by a bunch of human remains). The best part is when the giants roll up Ewan…
What does it take for an uptight science geek to get the hot girl? Apparently, it's all about geo-engineering. Ladies love it when you terraform the Earth!
The US military doesn't often see the outlandishness of an idea so much of a problem as a challenge. It's experimented with telepathic ray guns and Impulse Swimmer guns, why not just make the soldier himself the weapon?
Paul Torday's Salmon Fishing in the Yemen was one of our favorite examples of a book that's secretly science fiction — about a fisheries scientist who undertakes the mad, ambitious project of introducing salmon to the Yemen. Including all of the bioengineering (and regular engineering) that goes into that.
He's a chef and she's a scientist — what starts out as a opposites-attract movie swiftly changes course as people all over the world fall victim to a disease which nullifies their sensory perceptions. The first sense to go is smell, then taste, then hearing...you get where we're going. And while the world goes mad,…
The latest trailer for The Men Who Stare At Goats demonstrates George Clooney's Jedi/ninja skills. Check out his special warrior monk abilities, honed by the U.S. government for secret spy espionage. It's based on a true story!
Now that you've already seen the Jedi mind tactics from the mustached psychic soldier George Clooney, take a look at his hand to hand combat skills as he almost breaks Ewan McGregor's arm. Secret Government warrior monks are hilarious.
A new film, The Last Word, has cast Ewan McGregor as the lead. It's a romantic drama, in which he finds himself falling in love inside a city, that is slowly losing its sensory perception. Really limitless possibilities as to what they could do with this script, but it sounds like people are losing the ability to…