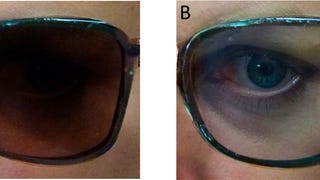 Blessed are those with perfect vision, but the rest of us poor, nearly blind souls know the torture that is looking for sunglasses when we already have to wear glasses. The options are Fitovers that jut out like VR goggles or flimsy clip-ons or prescription sunglasses ($$$) or god forbid transition lens. (Please don't…
Vinyl records and unneccessary, overly-large eyeglasses: probably just below coffee shops and typewriters when playing the Hipster Word Association Game. If you've ever wanted to combine those two staples, look no further: Vinylize is a company that upcycles old LPs into eyeglasses for the PBR-drinking masses.
The hardest part of reading (besides the big, scary words) is finding a remotely comfortable way to sit, or lie, while doing it. These crazy prism glasses will add "lying on your back" to the list of options, but you'll look stupid.
Two and a half years on, and the British atomic physicist who invented these optician-less adjustable glasses is now working with the World Bank and the Dow Corning Corporation to supply 200 million pairs to African and Asian schoolchildren.
A new Army program, called Heads-Up Display for Control of Unmanned Ground Vehicles, is said to be developing an "eyeglasses-like display" that projects live video feeds from robots on the ground. That's no breakthrough. But what is new is that our soldiers may even be able to drive these robots—using only the natural…
Answering Mark's prayers and bringing us all one step closer to looking like Geordi La Forge, Sony has unveiled eyeglasses that can show full-color video images. The prototype supports a QVGA resolution, weighs 120g, is 3mm thick at the lens, and has a contrast ratio of 50:1.
Here's a pair of glasses from PixelOptics that replace bifocals, changing from distant vision to close-up with the flick of a switch. Sure, this prototype is rather odd-looking, but its developers say future versions will be indistinguishable from conventional eyeglasses. The technology works using an extremely thin…