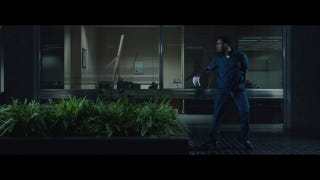 Noam Murro—director of 300: Rise of An Empire—enters a decidedly more adorable fantasy realm with Night Shift, a Fantasia homage featuring a rubbery-limbed janitor/sorcerer (note the Mickey gloves!) taking care of business with the help of an animated, bucket-toting mop.
When we found out that Disney was making a live action Sorcerer's Apprentice with Nic Cage as the creepy-haired old man wizard, we knew the famous "mops scene" from Fantasia was inevitable. And here it is.
Check out the latest behind-the-scenes video from Disney's Sorcerer's Apprentice. Sure it's not high-concept, but its smacks of quality summer popcorn fare. And we're due for one good wide-screen action film that isn't plagued with wrecking balls and racist robots.