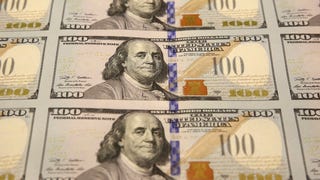 What happens to old paper money that's too worn out to be used? It's often recycled and made into everything from dog beds to packing materials. But the Philadelphia Federal Reserve office does something even more unique: They send the old currency to local power plants, where it's burned for electricity.
A week ago, the Federal Reserve announced something or another about bonds, a move that sent the bond market into a frenzied orgy of bond loading and unloading. So what, right? The markets quiver whenever the Fed does anything. Well, weirdly, it appears the information got out five milliseconds early. Which wouldn't…
The government announced its new high-tech design for $100 bills in April with much hoopla, including an epic YouTube trailer. But there's been a small glitch since then: $110 billion of them have been printed incorrectly.