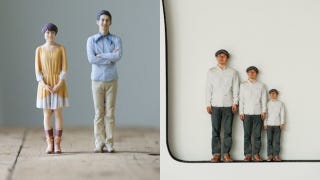 If you've ever thought it would be cool to have a miniature figurine of yourself—or maybe a loved one—just hanging out on your desk and doing it's thing, your day has come. The first 3D printing photobooth is due to open in Japan later this month.
Stand on the shoulders of giants? Pshaw, how about on the hands and heads of 180,000 very tiny people. This incredible art piece lets you do the latter and look down upon your new helpful friends.
Personally, I'd rather play Chris Cunningham directing Aphex Twin, but it's probably for the best I'll never get that opportunity. If you have $750 knocking around, the Beastie Boys are selling their three 11.5-inch figurines from their latest music video.
I'm glad I can at least be like Steve and satisfy my planetary-sized ego ordering my own mini-me figurine: 3D-printing company Sculpteo can now use your frontal and profile photo to make a full 3D-printed, hand painted figurine.
This could work for any hollow figurine you have collecting dust on your shelves, but due to Android's open-source nature a little robot is the obvious choice for DIY hackery. The full tutorial is on Instructables, but to make him react to sound; turn his head and flash his LED eyes in morse code patterns, you won't…
All I want for Christmas are some zombies and sentient, weaponized plants to protect me from said zombies. Failing that? These adorable clay figurines that look just like them.
Scuba Steve, a 7" figurine, seems like a nice enough guy. His round face and charming monocle seem perfect for children's parties and lending an extra hand in bathroom sterilization. But then you read his description and see that "if a shark won't listen to reason, then Scuba Steve pulls their teeth out (but still…
In addition to all those saints and Jesuses you have on your dashboard protecting you from god-knows-what, now you can add Yoda, Darth Vader and C-3PO, blurting out an assortment of thirty Star Wars sayings with every bump and jostle. Take the jump for a video showing these characters nagging the driver, along with a…