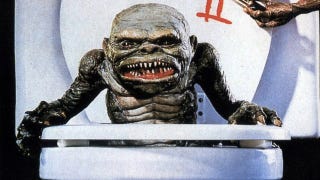 You may remember that we recently counted down ten of science fiction's most undignified demises. One of the most ignominious deaths was the passing of Donald Gennaro, the lawyer who is consumed whilst sitting on the toilet by a hungry Tyrannosaurus Rex.
Nothing brightens your day better than a Rube Goldbergian death-trap. Especially when it's being constructed by the ridiculous franchise that is the Final Destination films. So watch the latest trailer for Final Destination 5, and laugh yourself to death!
Could this be the biggest movie summer of all time? It's sure looking like it. Almost every weekend features at least one, and maybe two or three, movies with a science fiction, fantasy or comics pedigree.
Here are two high tension deadly escapades, from the latest Final Destination film. Yes, they're still making those. I still have a hard time swallowing that death has nothing better to do than kill off kids in clever ways.
Hey, there's a new one of those Final Destination movies, because... why not? This time, a much-needed thinning of the herd is stopped by some psychic kid. Don't worry, death will right this wrong.