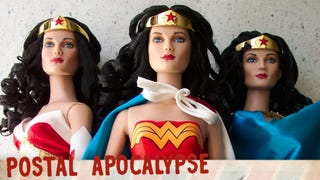 Welcome to Postal Apocalypse, the only mail column on the internet written by a fake mailman from the future (that I know of)! Today we're discussing how toys affect movies — or prevent them, why DC seems determined to piss off everybody, and the best songs to sing around your apocalyptic campfire (besides "Every Rose…
Final Fantasy I & II might have been on the App Store for the better part of 2010, but Square Enix's other turn-based FF game, Final Fantasy Tactics, has been delayed. The original launch date was September 15, but Square Enix just posted a note saying that the release date they originally gave at E3 was wrong, and…
I'm more excited about Final Fantasy 1 + 2 coming to the iPhone than just about any upcoming iPhone game. It's Final Fantasy! For iPhone!
Well, this is a nice thing that Sony and Hong Kong International Airport have done: there are now 14 PS3 "Game Poles" (read: kiosks) distributed throughout the airport for travelers who've exhausted the entertainment potential of the Duty Free shop.
There's been some great classic gaming on the iPhone already—Monkey Island comes to mind—but now the platform is getting a huge injection of gaming cred with Final Fantasy 1 and 2. Try to control your squealing.
By the looks of things, designer Andrey Chirkov is a big fan of Final Fantasy. His concept mouse seems to take its design cues from the FF8 Gunblade—or a hoof (I'm not really sure).
Square Enix, the famed Japanese publisher behind all 3,000 Final Fantasy games, is hard at work on Crystal Defenders, a new game for the iPhone based on the FF universe. It'll be a "defense simulation" game that utilizes the touchscreen, so I'm guessing it'll have more in common with Final Fantasy Tactics than Final…

What the hell are those little fluffy jumping guys called in FF? Kookaburras? Pookachookas? I don't know. I hate FF. Anyway, Sony Computer Entertainment Japan, in cooperation with Square Enix, presents the premium limited edition of PS2 package (SCPH-75000 FF) on March 16. It s the latest model of the PS2 (in…
It only took Square Enix twelve games and numerous spin-offs to finally start profiting off those Final Fantasy fanboys across the globe. This is the drink called Potion. It will be released in March to coincide with the release of Final Fantasy XII. It appears to be just another cookie-cutter energy drink that…