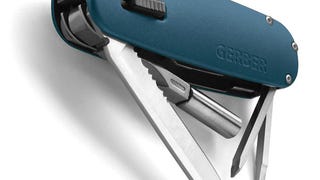 Can you believe this multi-tool costs just $30? With its sleek looks, nine tools plus a 25-lumen LED, it's bloody good value for those late-night fumblings as you try and break into your own house. Pre-order now. [KnifeCenter via Werd]

Brian will be one happy boy come October 4. That's when the Wii Fit Plus (announced at E3) will be arriving. Good news: looks like it'll be only $20 if you don't need a Balance Board.
Nintendo has partnered with NEC, Panasonic and Hitachi to put together a system that actual doctors will use to check up on actual patients, using a Wii Fit.
No idea who did this originally, but Wired found a video of two dudes playing Wii Fit LEGO Mindstorms Soccer. Wait, what? Looks like the guys hooked up two Wii Fit balance boards to a LEGO Mindstorms trucks(?) and made them move around in sync with whatever leaning or jumping motion was made. A very fancy display of…
I used to be very proud of my legs. I have slight knees and ankles. But the muscles around the bones were very strong. And in my early 20s, as a full-time martial artist, I could kick very hard. My nose bled like a faucet, but I will say I could hold my own good and I was never so happy as at the end of a long day of…
Atari isn't going to let Nintendo hog all the video game fitness money, as evidenced by the announcement of Family Trainer for the Wii. It's pretty similar to Wii Fit in that people stand on it and do activities, but it doesn't weigh you and actually has pads for you to jump or step on. No price yet, but is there…
With the snow season practically over, we are starting to miss those winter days of snowboarding and hot tubbin'. This summer when the snow is long gone we might actually have an outlet for our snow-sport deprived lives. The Wii Fit. There is a whole set of mini-games that take place on the mountain. With games that…
According to the Wall Street Journal, the get-body-conscious Nintendo Wii Fit will launch on May 19 in the US. Meanwhile, we just got a European Nintendo press release pointing to an April 25 release. [Kotaku and Nintendo]

Though we usually leave the car news to our strapping brother Jalopnik, there is hardly a more gadgety car than the rumored hybrid version of the miniscule Honda Fit. While Honda has publicly denied the story by Japanese daily newspaper Nihon Keizai, the report says that Honda will launch the sub-Civic-sized hybrid…