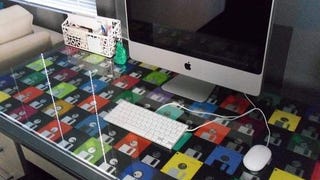 To think, our children won't be able to build colorful desks out of nostalgic media formats because cloud distribution is inherently less wasteful. The shame! [Humbleablog via Unplggd]
British artist Nick Gentry's paintings give long-forgotten floppy disks a new lease on life. They're still storage media, just in a much more literal sense.

I can't think of a more old school, geeky tribute to Queen than a band comprised of an Atari 800XL, 8-inch floppy disk, 3.5-in hard drive and HP Scanjet 3C. If only it sounded better.
This hand-sewn floppy disk coaster set will put you back $28 for stain-free coffee-table goodness for the neat-freak nerd. Available in five colors, it'll also make you reminisce for the times you sat there for forty minutes, inserting floppy disk after floppy disk to install Microsoft Office 6.0. At least you won't…
Designed by Greek geeks-at-heart Supermandolini, these floppy coasters are cute things to stick beneath your drinks. Measuring 3.5" square, a set of six will cost you $41 and make you wish you were still licking your brother at Asteroids all over again. [SuperMandolini]

Just as burning a girlfriend a CD will never be as romantic as making her a mix tape, so too will sharing pirated software prove a heartfelt disappointment on anything but floppy. So one (genius?) designer has made CD-Rs that look like 3.5" floppies. At $8 apiece (for 200MB) in packs of 4, they aren't the best bang…