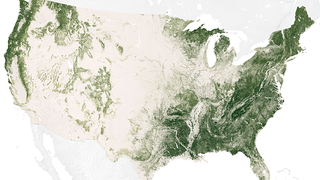 The natural world is changing in significant ways thanks to human-caused climate change. While some species are flourishing, others are already gone forever. Now scientists are looking specifically at how US forests will transform due to the increase in atmospheric carbon dioxide. Bye, Eastern hemlock, it was nice…
A new report from Michigan State University is praising China's efforts to roll back decades of deforestation and habitat destruction, noting that there are major implications for global climate change and local biodiversity.
Human beings are having an overwhelming impact on Earth's ecosystems, whether we're pouring plastic into the ocean or filling the skies with carbon. But it's not just modern society that's to blame — our environmental legacy stretches way back into history. Since dawn of civilization, we've caused nearly half of the…
Today is International Day of Forests, a global celebration of the importance of trees in our everyday lives. You're a techie who spends all day in front of your computer and you haven't cracked a window recently? Forests still matter, a lot.
The city of Boca do Acre is a beautiful place to live, almost completely covered by the Amazon Rainforest—for now. Because you shouldn't be fooled by the pretty colors in this image: it actually reveals the rapid rate of deforestation in the area.
You're probably used to hearing about drones as these scary, deadly things causing chaos in Pakistan, but the scientific community is actually pretty pumped up about the technology. Why wouldn't they be? Drones can makes 3D maps of mountains.