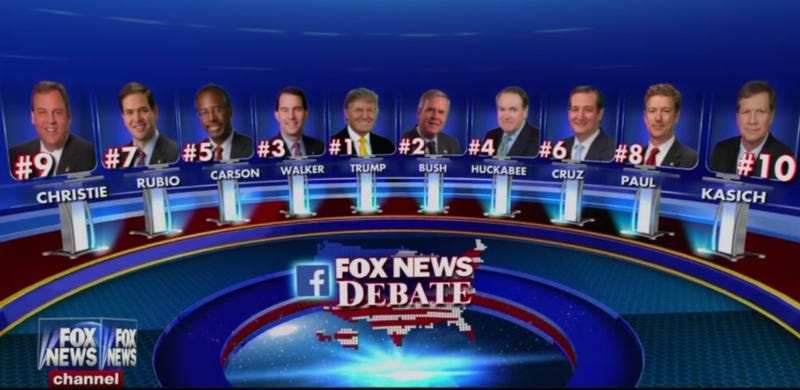 Thursday's debate between Republican candidates for President is must see TV. But if you're a cordcutter who doesn't subscribe to traditional TV, you're sadly out of luck. The highly anticipated debate is co-hosted by Facebook, but the only legal way to watch it live is on Fox News.
The climate is changing and no state has felt this more acutely than drought-plagued California, where 100,000 acres of forest are burning today—including one fire that's 100 square miles. Today, the state's governor Jerry Brown asked for help posing a question to Republican leaders: "What is your plan to deal with…
Whether Fox News got hacked (unlikely) or their giant new iPads are causing something to go haywire, the stars seem to have aligned in our favor today. And the result, friends, is glorious.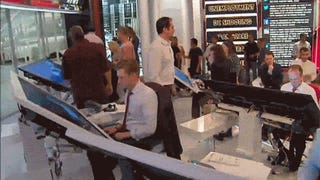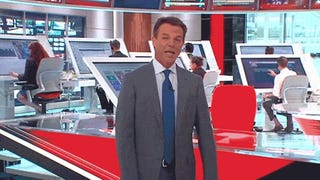 Over on Fox News' website, Shepard Smith gives us a tour of the the Fox News Deck's upgraded studio which inexplicably features a team of staffers in the background working at what appear to be gigantic tablets. According to Smith, those are actually "information specialists" frantically pawing away at what Fox calls…
Needless to say, the President is very much alive and well, having not been "shot twice in the lower pelvic area and in the neck" as the @FoxNewsPolitics Twitter account claims.
Click to viewBREAKING: There are WOMEN on the INTERNET. Some of them are hackers, even, but only for the power of good! And some of them also happen to be model-slash-dental hygienists. Thanks, Fox affiliate news team! This is amazing. [The Awl]
FoxNew.com tech editor Jeremy Kaplan asked me if I think Apple's lost its mojo. I responded using a metaphor pertaining to intercourse, particularly that moment after the fact, and he went with it. Hey, it was a good metaphor! [FoxNews.com]
Click to viewWhen you combine two horrible things, you get something even worse. Proof: Fox News covering some skeezy Japanese virtual girlfriend iPhone App. "If she talks back, just put her in your pocket," indeed. [The Awl]
Here's a strange story from those paragons of sensible journalism over at Fox News. They claim that the FBI can now use the microphone on your cell phone to listen in on your conversations, even when the phone is turned off. Now, I've heard of special phones that are outfitted to work this way, but all phones? How is…