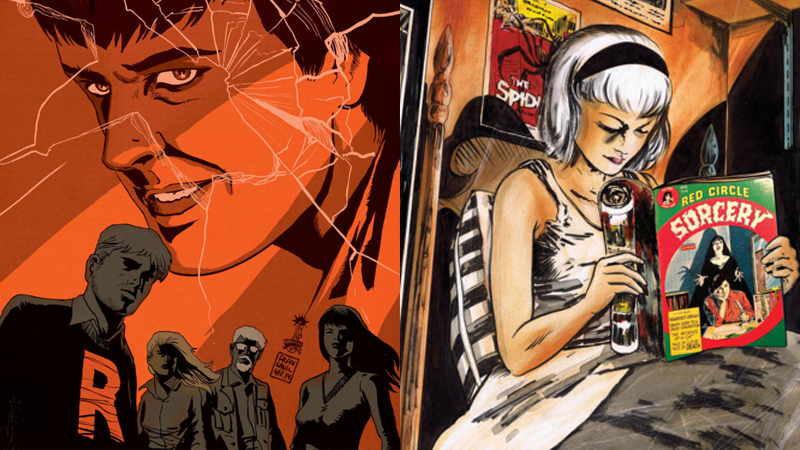 You might be almost incredulous to hear that Archie Comics are behind two of the best horror comics in recent memory, but it's true. Unfortunately, both Afterlife with Archie and Chilling Adventures of Sabrina have been missing from comic shelves for nearly a year... but that's not going to be the case for much longer.
A few hours ago, Gotham Academy writer Becky Cloonan pondered a thought I'm sure everyone's had - what if instead of breeding Dinosaurs, Jurassic Park hatched Freddy Krueger? Artists rushed to visualise her idea, resulting in some hilarious sketches.
Francesco Francavilla's Batman 1972 illustrations take the Dark Knight back to the 1970s, where he chainsmokes and does business with a mustached Commissioner Gordon. It's Batsploitation!
The character Swamp Thing has gone through many strange metamorphoses over the years. And in author Scott Snyder's current (and enjoyably creepy) story line, Dr. Alec Holland has only reluctantly taken on the mantle of the mossy champion to do battle with a malevolent primordial force known as The Rot.
Dardevil's heroic credentials were tarnished in the recent Shadowland miniseries, so Marvel's released teaser images by io9 favorite Francesco Francavilla auditioning a new Man Without Fear. My money's on Kraven or Falcon as the scion to Hell's Kitchen.
This week, the always entertaining Comic Twart collective illustrated everyone's favorite stogie-chomping super-spy — Colonel Nicholas Joseph Fury. Furthermore, they went the extra mile and drew the 1960s version of Nick. Groovy.