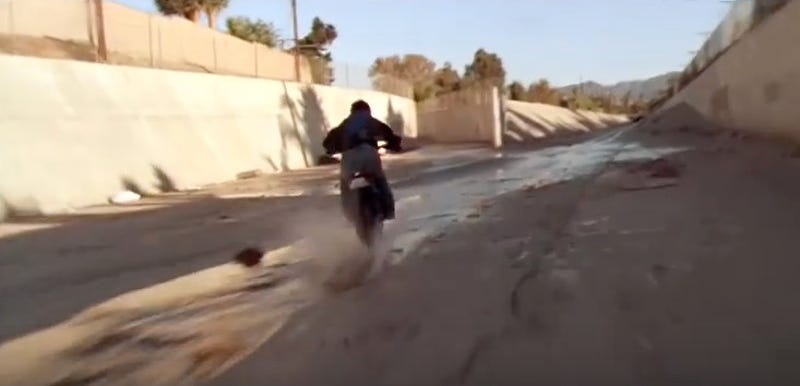 Good news to those of you who still want to drag race, chase T-1000s, or, heck, even land small planes in the concrete banks of the LA River. Frank Gehry, the architect chosen for a controversial new master plan for the revitalized river, says he wants the cement walls to remain.
It can't be easy being the world's most famous living architect. Sometimes you have to say what's on your mind. Sometimes words just won't do. No, that's not Frank Gehry demonstrating the spire of his newest skyscraper. That's Frank Gehry giving you—and all his many critics—the finger.
While it's been widely known for at least a decade that Frank Gehry is the world's worst living architect, it's not entirely clear why some people—mostly very rich clients—haven't picked up on this yet. The utterly god awful Biomuseo in Panama, an eco-discovery center that cost at least $60 million and took a decade…
Happy birthday, you old crumpled wave of steel, you! L.A.'s signature building opened to the public 10 years ago today, giving the city's downtown a much-needed civic boost and cementing architect Frank Gehry's status as a metal god. I wrote a story for this month's Los Angeles Magazine about the building's…
Is it just us or are towers getting taller and taller these days? Broad Group, a Chinese developer, recently announced plans to scale up its prefabricated building technology to unparalleled proportions. The proposed Sky City outside Changsha will be the tallest on earth at 838 m or 2,749 ft, just barely inching past…
Architect Frank Gehry is best known for his curvaceous buildings like the Walt Disney Concert Hall in LA, or the other Guggenheim Museum in Bilbao, Spain. But he was also recently commissioned by Tiffany & Co. to create this funky chess set which looks like a tiny Gehry-inspired cityscape.
Nestled in the hills above Hollywood is a glass house that boasts one of the coolest open-air home theaters I've ever seen. You can flop on one of the sofas and watch a movie on an enormous screen, one of the outer walls of the guesthouse of the Hagy Belzberg-designed Skyline residence. A couple more mouthwatering…