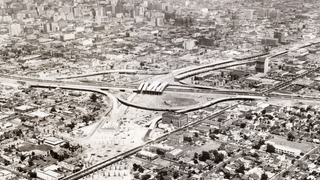 The US interstate highway system was once a marvel of modern engineering, allowing the movement of goods and ideas that ushered in an era of unprecedented prosperity. But when those highways reached the cities they connected, they plowed through the lowest-income areas, physically dividing neighborhoods and…
Whether they're howling at fire engines or hanging out in bars, coyotes have become a part of urban life. But a new study of LA coyotes by the National Park System has confirmed something that Angelenos have suspected for years: Coyotes aren't just sauntering down our streets on their way to the local park. They…
Highways let us humans zip from one place to another—at least when the traffic's not horrendous. But for wild animals, highways are like wide concrete fences that feature metal boxes of death barreling down at 70 mph. In the Santa Monica Mountains, a population of wild mountain lions has become penned in by highways…
They're the bane of modern interstates and countryside roads alike: Potholes cost American drivers nearly $6.5 billion dollars in flat tires, blown shocks, and cracked rims in 2013, according to AAA. Save your car this beating by learning to recognize the early warning signs of developing potholes and how to get them…
It's like staring at the night sky only instead of looking up to see stars and constellations, we're looking at the bright lights of cities connected by highways. A Reddit user superimposed state boundaries and interstate routes onto a NASA photograph of the United States of America at night to show how and why things…
Martin Luther King's 1956 tips for riding integrated buses, examining how design has helped an Alabama county, building instant cities in Accra and instant skyscrapers in Mumbai, and how two New York architects are tearing down the work of their former friends. It's all this week in our favorite Urban Reads.
It seemed like a good idea at the time, right? We'd build vast, multi-lane roads slicing through the center of our cities, bulldozing our most historic architecture and displacing tens of thousands of residents at a time, all in the name of progress. 50 years later these genius improvements have severed our…
This road smashing into a building and emerging out on the other side is the most "normal" highway in this album of Japanese infrastructures collected by Dark Roasted Blend. Here are our favorites.