AMD says their Fusion Accelerated Processing Unit is "Sandy Bridge done right," which combines a CPU and discrete ATI graphics on the same die, allowing more efficient processing, increased battery life and improved graphics performance. Now it's in 11 new HP laptops.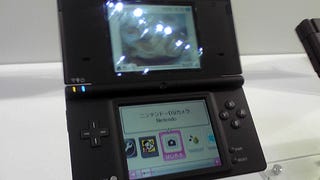 We pretty much figured that Nintendo had another reason for releasing the DSi other than just wanting to give us a prettier system like, say, wanting to stop rampant global piracy on the DS. Now that the DSi is out in Japan, the public has tested all of the flash card piracy devices and found the results to be very,…
An "extremely well-informed exec" tells Trusted Reviews that the 6G iPod will be released in December, and it will be capable of 480p resolution. The source confirmed that it will be a touchscreen model with virtual click wheel control, but made no mention of whether wireless connectivity would be part of the package.…
Like to take pictures while you're watching Everybody Loves Raymond? The IMAX G6 PMP has a 2.0-megapixel camera shoehorned into the back, while the front sports a QVGA (320x240) screen. The media formats supported are ASF video at 30 fps and MP3/WMA for audio.