Warner Bros. has announced that Zack Snyder's two-part Justice League film will start shooting on April 11. That's mere days after the opening of Batman v Superman: Dawn of Justice—and the news comes after several weeks of speculation and uproar overs rumors that the studio was worried about Snyder's Batman v Superman.
When a big movie is released in theaters, all the other studios take advantage of the attendance bump with new trailers, posters and more. One of 2016's biggest films, Batman v Superman: Dawn of Justice, already has the trailer and now there are posters too.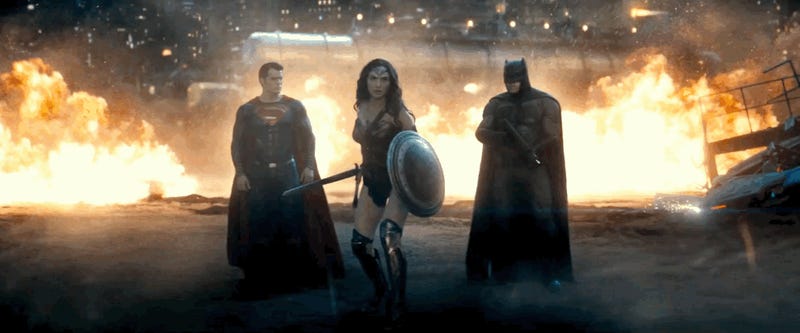 So that happened. After years of intense secrecy around Batman v Superman: Dawn of Justice, the latest trailer went from 0 to 100 in terms of spoilers. Not only did the trailer show the reveal of Wonder Woman, but it even introduced the film's big bad guy: Doomsday. Here's what we learned.
Get the invisible jet ready: the standalone Wonder Woman movie, starring Gal Gadot and directed by Michelle Maxwell MacLaren, will begin filming in the fall, with a summer 2017 release planned. Gadot will first appear in 2016's Batman v Superman: Dawn of Justice.
There's a lot to look forward to in Batman V. Superman, and the movie debut of Wonder Woman — played by Gal Gadot — is near the top of the list. However, her outfit isn't one of them. Luckily a group of dedicated artists have taken it upon themselves to give the new Wonder Woman the wonder-ful outfit she deserves.