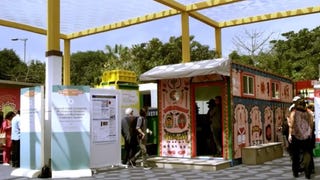 Globally, about 2.5 billion people don't have access to basic sanitation facilities. One of the biggest initiatives to improve this statistic comes from the Gates Foundation, which sponsors an annual challenge to reinvent the toilet. Now big-time bathroom manufacturer Kohler is making one of the winning ideas a…
The Bill and Melinda Gates Foundation recently awarded a grant to an Australian research team trying to build a better condom. They're hardly the first to win such an award, but they have a novel approach. These polymer scientists are making condoms out of hydrogels, the same materials used in contact lenses.
The broken condom is every couple's worst nightmare. Okay maybe not worst, but it is one of many legitimate concerns about the contraceptive that could save lives if people actually used them. So how do you convince people to use condoms more often? Make a better condom, of course.
Toilet tech is no longer the oft-overlooked subject it once was, and much of that is thanks to the Gates Foundation, which has made helping the 3.5 billion people lacking access to clean toilets one of its main missions. But how does one test the durability of potential cost-effective commodes? By using fake poop, of…
Toilets weren't the only thing on Bill Gates' mind at yesterday's Techonomy conference in Lake Tahoe—the former Microsoft CEO also offered his vision of the future of education. The next great educational institution, he thinks, is the Internet.
Click to viewGive back. Appreciate community. Raise your son to become an extraordinarily wealthy tech scion/genius/philanthropist. Besides that last one, these are the messages Bill Gates Sr. had for the 2010 graduating class of University of Washington, his alma mater.
Bill Gates and his dad, Bill Gates Sr., were on Charlie Rose last night. Continuing the story of young, bastard Bill, it's revealed at one point his psychologist told his parents, "Give up."
Bill Gates puts up with us, having granted us three interviews in the past three and a half years. It's an intense experience: Bill isn't always fond of making eye contact, and is known to snap at reporters who ask dumb questions. After all, he's not just the Andrew Carnegie-or Emperor Palpatine-of his time. He's also…

One of the most fascinating profiles I've read this year is the Melinda Gates cover story from Fortune. She's here at Walt and Kara's All Things D Conference to talk about The Bill and Melinda Gates Foundation, where Bill will be directing most of his energy come July. Although this is not directly gadget related,…
The beautiful, smart and, no doubt, fragrant Melinda Gates is the subject of a mahoosive profile in Fortune. And, aside from the philanthropic angle (Bill and Melinda, it is estimated, will give away around $100 billion from their eponymous foundation) it gives a fascinating insight into the home life of Mr. and Mrs.…