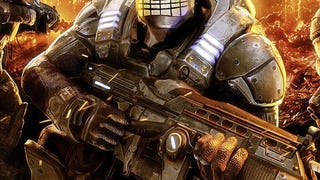 At first I thought this just was pretty great Futurama - Gears of War mash-up Then Jason told me the same guy provided the voice for both Bender and Marcus Fenix, and my world collapsed in on itself.
It's easy for those of us with HDTVs to forget that not everyone has them yet. And Epic's Mark Rein's stat that slightly over half of Gears of War 2 players played it on an SDTV really brings that home.
The current largest video screen in the world, in the Dallas Cowboys stadium, measures an insane 159x71 feet. Feet! And what better way to show that immensity off than by playing a little Gears of War?
Joel@BoingBoing has put together a gallery of robots and humans cooperating to extinguish opposing force—human, cyborg or otherwise. This photo shows the towing capacity of a packbot QinetiQ TALON Robot, apparently capable of towing meatbags back to the hive to feed its young. [Army.mil Flickr via BBG]
Here's the special edition
Gears of War 2 Zune
coming out next month, in the flesh. It's total sex if you're into dripping blood and skulls and boxy media players. (You sick bastard.) Oh, and : Marketing director for Zune Jason Reindorp told us that a serious "step up" in Zune and Xbox 360 integration will happen…
Killing two marketing birds with one stone, Microsoft's bundling some of its Zunes with various Gears of War 2 (launching soon!) paraphernalia. Each 120GB Zune will sport a laser-etched "Crimson Omen" and come pre-loaded with 244 pieces of media, including the soundtrack, behind-the-scene videos and concept art. The…
Sure, we like the design, but we love that despite the muddy, spontaneous pewter finish of this homemade Gears of War Xbox 360, the creator very carefully negotiated all of the Xbox's machined ventilation holes. All-in-all, it's a pretty decent-looking mod, and those red lights are actually pretty quite when they're…
Check out these four horsemen of the Xbox 360 apocalypse from ComicCon: one Watchmen, one DC Comics, one Gears of War, and one Terminator Salvation, all up for grabs as part of a contest from Warner Bros. These aren't just new cases, either, they're full-fledged Xbox 360 consoles. There's only limited info to go on…
These guys got an assault rifle, a mechanic chainsaw and a bunch of LEDs to create a Gears of War Lancer gun. Fortunately for everyone, or maybe just Jack Thompson, only the LEDs are real. But even while they used a toy chainsaw and a Nerf N-Strike Longshot CS-6, the final result looks great in motion.

If your clock's going to be made out of gears, why not just expose all the gears and make it part of the design? That's exactly what these folks did, which makes for a quite sexy clock design that gives your bedroom that much more of an industrial look.

Remember all the accessories MadCatz was making for Gears of War? Here's a shot of one of them. It goes on pretty smoothly—like most 360 faceplates—and isn't garish at all. Quite nice, and definitely matches the game Gears of War better than my old FIFA 06 faceplate.
Gears of War, is about to launch (November 7), and Mad Catz is getting in on the action with a few interesting console accessories. The first is the faceplate plus "Console Skinz", which are graphic coverings for the side of your 360 shown above. This is $29.99.