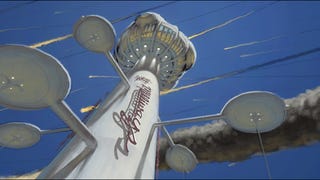 Every town has one. It's the place where the nerds and outcasts are welcome. You feel safe there discussing the molecular composition of a pop tart before eating it. It's a spot visited by people want to build worlds, and play in them. Or who want to swap books. Tell us about the best geeky hangouts in your town or…
For most people, summer means action-packed sci-fi/fantasy blockbusters, but for us skin mongers, summer brings a lot of sci-fi/fantasy porn parodies. Since "X-Men: First Class" just hit theaters and "This Ain't Ghostbusters XXX" recently showed up in our mailbox, we… [
Fleshbot
]
Jeff Potter plays with his food, and wants to get you to as well. He experiments with equipment, techniques, chemistry, even the psychology and genetics of flavor. Sometimes it's delicious, and sometimes he blows up the kitchen. Sometimes both.
The Konami code is a secret branding, a geek stigmata—all it takes is that one brief flash, and you're immediately recognized as one of US. Is it any surprise then, that if you enter that hallowed sequence on DP's new Pogue-o-Matic gadget finder, you get to watch him do a special trick?
While
this
is by far our favorite geek vanity plate, we don't pretend that others don't exist. And frankly, if I pulled up behind someone repping a wireless radio standard for all to see on the back of their Hyundai, I think there's a great chance I might spit-take my Big Gulp and risk a rear impact collison. And…
Oh, Newsweek, always on the cutting edge! Your "How geeky are you?" quiz in the latest issue did make us tittle, but here are some questions you missed after the jump.